$40 Million for a Tournament
$40 Million for a Tournament ,yes, you read the title right . In 2021, history was made as the highest prize pool for a single e-sports tournament was announced to be $40,018,195 USD.
It was International 11 that is the annual edition of the game Dota 2's professional circuit that announced its price pool to be that large. The money was pooled in by the community by buying in-game items related to the tournament where 25% of the money went towards the prize pool and the rest to the game developers and publisher.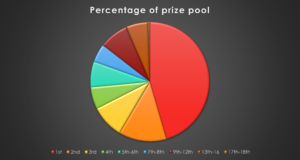 Division of money among the teams
There was a total of 18 teams that competed in this tournament with every team receiving a bit of the prize money. The winner took 45.5% of the money home followed by the second place taking 13% and third place taking 9%. The division of money is represented in detail in the table below.
Table 1 Distribution of prize money among teams
| | | |
| --- | --- | --- |
| Place | Money in $ USD | Percent |
| 1st | $ 18,208,300 | 45.5% |
| 2nd | $ 5,202,400 | 13% |
| 3rd | $3,601,600 | 9% |
| 4th | $2,401,100 | 6% |
| 5th-6th | $1,400,600 | 3.5% |
| 7th-8th | $1,000,500 | 2.5% |
|    9th-12th | $800,400 | 2% |
| 13th-16th | $600,300 | 1.5% |
| 17th-18th | $100,000 | 0.25% |
Figure 2 Chart depicting prize pool distribution
As you can see from the table and chart above, even the losing team got at least a 100 thousand dollars from the tournament. The tournament was so huge that just participating in it was enough to earn you a lot of brand deals and sponsors. Not to mention that even appearing in the tournament was a great honor for every team and earned them a lot of respect and recognition in the community.
What Is E-Sports and Why E-Sports?
My reason for writing this article is to educate people about the huge scope of electronic sports or e-sports for short and its huge widespread around the world. One can easily enter and participate if they polish their skills and practice their abilities in a game of choice.
E-sports is basically an industry where a multiplayer video game is played competitively among players and professionals for the spectators to watch and enjoy.
In today's world who doesn't like playing games?  Not me. And imaging how good would it be if you can earn money while enjoying and playing games that you like?
That's exactly what E-SPORTS is.
E-sports as a career option is a solid choice with a huge potential growth ceiling. One can earn a lot of money, recognition and prestige by distinguishing themselves in this field as it is one of the most if not the most upcoming streams of entertainment.
How are E-sports tournament held?
Just like how any other sports is held, an is held in a venue/stadium where depending on the type of game, numbers of players and teams High-end PCs with top notch configurations are placed in a booth/podium and from there, the game is streamed on huge screens all around the stadium for the audience to see and streamed online for the whole to enjoy.
As you can see from the figure, this is how a team is seated in a booth with their individual computers to play and compete on against another team in their own respective booth.
This is how an E-sports stadium looks like with the teams seated in the middle and an audience all around them. The game is being displayed on the huge screens in the middle of the stadium and being broadcasted all over the world online.
Popular and highest paying E-sports games
Cited below are some popular E-sports game and their player composition in which they are professionally played: –
Dota 2 : Played among 2 teams of 5 fighting against each other to destroy their bases.
Counter-Strike: Global Offensive :- Played among 2 teams of 5 seeking to eliminate the other team first or defusal/detonation of the planted bomb depending on which team.
Fortnite: Played among a lobby of 100 players seeking to eliminate each other and be the last one standing.
CONCLUSION
If one seriously wants to pursue a career in gaming, not playing games just for the fun of it but treating it like an actual job, the scope in the industry is huge and ever growing by the day.
One can easily get into the industry by showing off their skills online and approaching professional teams and recruiters to enable their participation in the tournaments and get ample, proper guidance regarding the industry.
"E-Sports is the future"                                                                                                                                               .
By: Shubham Agarwal
TechdoctorIN
Channel link: https://www.youtube.com/c/TechDoctorIN
LinkedIn : https://www.linkedin.com/in/dr-pawan-whig-a9730b11/?originalSubdomain=in
Google Scholar: https://scholar.google.com/citations?user=AyrId_EAAAAJ&hl=en
Tech Doctor In is very useful educational channel run by Dr. Pawan Whig Senior IEEE Member. The content is verified by him at it is very useful.
Dr. Pawan Whig
9811908699